Fingerboard
VASTA String Programs Abound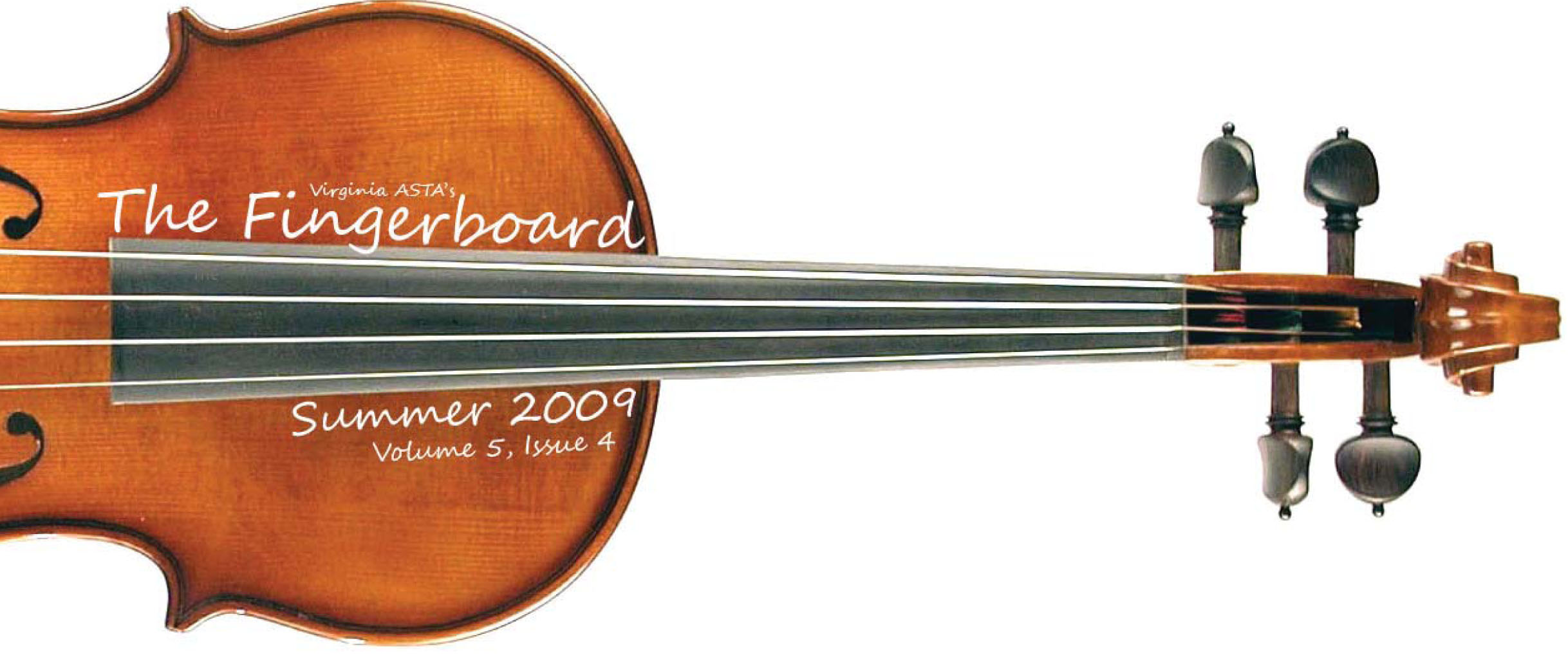 By now, you will have received a hefty envelope, fi lled with information
about upcoming VASTA events:
* VA Cellobration
* Senior Regional Orchestra Prep Days (Northern Virginia)
* CONFIDENCE! Mental Skills Training for Musicians with Christine Vi-
tale, EdD Workshop
* VASTA Recital Series (Northern Virginia)
* Corrochano Stringed Instrument Loan Program
As the advertising slogan goes, "But wait, there's more!" You'll soon receive notices about SRO Prep Days and Recital Series in other parts of the state. Not to mention master classes, workshops, the Virginia Solo Competition, and the Certificate Advancement Program that will take place later in 2009-2010. So mark your calendars, now... and inform your students and their parents about these VASTA-sponsored opportunities.
I would like to remind you to make it a habit (a good one, I assure you!) of periodically visiting our chapter website: VASTAweb.org. We are in the midst of upgrading the website to make it even more useful and timely. On the website you'll fi nd up-to-date information about VASTA events (including handy registration forms), reports on previous events, and complete back issues of the Fingerboard newsletter. Just like the newsletter, the website contains ads from industry sponsors and other string education groups whose professionalism and
dedication to string education you can trust.
Also, please highlight on your calendar the date of the VASTA Annual General Membership Meeting. It takes place on November 19, 2009 at 5:15 p.m. in the Dominion Room at the VMEA Conference. The Conference will be held at The Homestead, in Hot Springs, VA. All members are invited to meet with the VASTA Board of Directors and with colleagues from all over the state.
Finally, one of the blessings of being part of the VASTA Board is working with individuals who make things happen. Lack of space in this column makes it impossible to thank each of them, but I would like to say a very "Special Thanks" to VASTA Past-President Helen Fall, who put all the pieces together in that hefty envelope. And, I want to thank VASTA President-elect Lucy Manning for her work in facilitating the presentation of the Dr. Marianne Perkins Library to James Madison University. Marianne's collection of notes from master teachers, and other pedagogy materials will be of great value to future generations of string teaching students. A very moving article by Marianne's husband and fellow traveler in discovery, Graham, can be found in this issue of the Fingerboard.
Gary Frisch, President of the Virginia String Teachers Association
Marianne Perkins Collection By Graham Perkins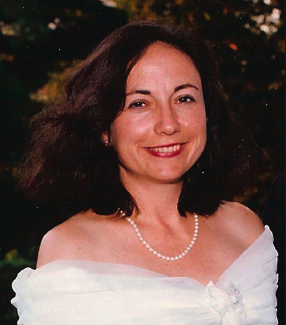 Marianne Perkins was passionate about string technique. This passion was fired initially when she studied with Dr Suzuki in Matsumoto at the Talent Education Institute, expanded by her doctoral research work at Catholic University of America, and reinforced every day by her practical studio teaching experience. Every day brought new ideas and opportunities to make new connections between existing ideas and thoughts.
At the time of her death, almost exactly one year ago, she was distilling those ideas and thoughts on technique into something that she described as an "eclectic approach" to string playing – an approach that drew from a variety of methodologies and pedagogies.
It was her wish that more effort be directed towards string pedagogy research and she looked forward to continue to play an active role in that area. When her teaching was unexpectedly suspended last year, she ex- pressed the hope that her work be continued somehow, possibly by the establishment of a center for string pedagogy research in Virginia.
After her death, Gary Frisch and her colleagues at VASTA were very supportive of finding a college in Virginia that was willing to establish such a center and use Marianne's extensive research materials – her music, books, notes, writings, video and audio recordings – as the initial core of a pedagogy library. Lucy Manning's diligent efforts resulted in two credible proposals to house Marianne's collection – one from Eastern Mennonite University and one from James Madison University, both in Harrisonburg. I am very grateful to Lucy and Gary for the work they have done that resulted in these two proposals.
Over the last couple of months I have visited and talked with representatives from both schools and have concluded that the most appropriate location to house Marianne's collection is the School of Music at James Madison University. Currently, the School of Music at JMU is undergoing a tremendous period of growth, specific to both physical and human resources. A new Performing Arts Complex will be completed in 2010. As part of this process, the Music Library will be expanded and will house Marianne's materials as a special collection (both shelved and online) that will be available to all (JMU and outside JMU) interested parties.
Dr. Brian Cockburn, School of Music Head Librarian will be in charge of cataloging the extensive collection. While JMU String Music Education and Performance undergraduates will benefit from the gift, so too will students enrolled in the recently formed, two-year-old DMA program. This program currently offers studies in String Pedagogy and Performance, as well as Conducting. It will also add a new DMA in Music Education in the relatively near future. In addition, JMU is one of two sites in Virginia with a String Project program where the teaching of strings and study of string pedagogy is vital to training the undergraduates who teach in the program.
Dr. Jeff Showell, Head of the School of Music, and both Dr. Bob McCashin and Dr. Lisa Maynard have expressed their firm commitment to developing string pedagogy at JMU consistent with Marianne's desires.
I am comforted by the fact that Jeff, Bob and Lisa knew Marianne personally, respected her work and recognized the contribution that she had already made to the field of research. I am confident that Marianne would have been very pleased to know that the team at JMU shares her passion and will continue to build on her initial collection of research materials to provide opportunities for future graduate and undergraduate students to widen their understanding of string pedagogy and perhaps take her research even further.
Corrochano Scholarship Recipients Submitted by Lucy Manning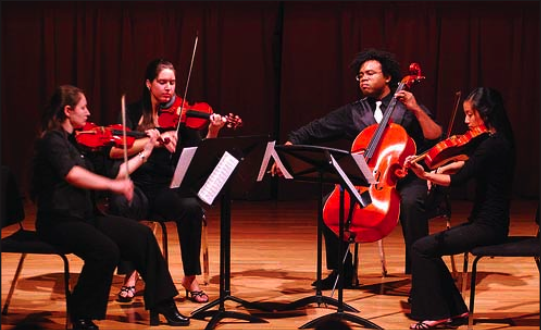 Four string students of Old Do- minion University (ODU) were the first recipients of the VAS- TA-Corrochano Scholarship of four matching, modern Italian instruments. This was made possible by the generous donation by a violin collector in Virginia who was so impressed by student performances observed at a VASTA master class. The donor subsequently donated a recently commissioned "blended" quartet of stringed instruments. These instruments were all made from the same wood by Italian maker Alvaro Corrochano, with the in- tent that the instruments be used as part of a string quartet.
An application process was created by the VASTA College- Advisory Committee to award the use of these instruments to a college string quartet in Virginia. In return, the ensemble performs for community and pre-college events to help promote string education in our state.
If you know a college quartet that could benefit from this generous opportunity, be sure to check the VASTA website for the application process. Sound excerpts and photos of the instruments are also available at the site.
The ODU string quartet, recently renamed the Stanger String Quartet after conductor Russell Stanger, are all undergraduate students with performance scholarships to perform as a quartet and with the ODU Symphony Orchestra. Below are each member's comments about the opportunity they had using these instruments:

Anna Dobrzyn, Violin
I enjoy playing on the Corrochano violin. It is a very high quality violin, and I feel that I am progressing technically on it so much faster than I ever was before. I am so thankful for my sponsors and I wish I could keep this violin forever! I might as well say that it's been the best experience of my life.

Mary Dart, Violin
The Corrochano Scholarship instruments have had a snowball effect on me and the quartet. The commitment I had to the quartet grew from the moment we were awarded the instruments at the 2008 Conference in Hot Springs. Our quartet then took the initiative to rehearse one more day a week (8 a.m. on Sunday) and focus more during the Tuesday and Thursday rehearsals. I had no idea how deep and meaningful music could become through constant ensemble study and discussion.
The biggest affect these instruments have on me was the condition of performing multiple school and public concerts. We performed 12 times this semester with a grand finale recital. My musical expressiveness has blossomed so much. At around the sixth concert, my stage fright changed to excitement for the music, which was so much more productive. I find that I have even more confidence and more expression and less stage fright in solo playing as well.

Shirley Luu, Viola
It was a great experience having the chance to perform for students in public schools around the area. The viola, along with the other three instruments gives an amazing sound. The endless quartet practices with these instruments were all worth it with the amount of knowledge I have gained. I hope that the students who receive these instruments in the future will find them just as awesome to play and find that the experience is most rewarding!

Kevin Jones, Cello
It was a really neat experience getting a new instrument, however, it takes time to adjust. The bottom end of the Corrochano instrument is very different from my personal cello in that it does not respond well to vertical attack. Instead of laying into the lower strings with all of my arm weight, I have to coax the sound out and gently encourage it to grow, adding arm weight as the vibrations amplify. The G string is incredibly bright, so much so that I will often play the open G instead of playing the same note on the C string, for love of the sheer raucousness it creates.
The Corrochano is by no means weak in the low end, however; it is terrifically resonant and has plenty of depth. The bouquet of overtones the cello produces is amazing. Just about every note I play on it is accompanied by many easily discernible chord tones, which I can hear even when playing in orchestra.
Having the opportunity to play on a better quality instrument for a year has helped me to clarify my ideas about what I want in a cello and what kind of sounds I like.

Scholarship Requirements

This scholarship opportunity is made possible by the generous donation of an anonymous violin collector in Virginia. The Virginia chapter of the American String Teachers Association (VASTA) is proud to administer the program and encourage the continued training of talented college string students in Virginia.
A set of modern Italian string instruments will be awarded to a college student quartet for one year. Current award winners are permitted to re-apply for one additional year. The maker is Alvaro Corrochano who is based in Milan and studied violin making in Cremona. www.a-corrochano-liutaio.it
ELIGIBILITY:
Virginia Colleges or Universities with current ASTA student chapters may apply.

BENEFITS:
Four students selected by the awarded college will have free use of these fine instruments for one year; be invited to participate in one VASTA sponsored master class; and given student membership in ASTA for one year.

PROCEDURE:
A sponsoring faculty member will complete the attached application form and submit it no later than October 31, 2009 to Lucy Manning, VASTA President-Elect, 5208A Argall Ave., Norfolk, VA 23508. Selection is made by the VASTA College Advisory Committee and the selected college will then select the deserving students. The Scholarships with instruments will be presented at the VASTA annual meeting at the VMEA Conference in November 2009. Students will retain use of the instruments until the next Conference.

REQUIREMENTS:
1. College must have an active ASTA student chapter to apply.
2. Insurance of the instruments is the responsibility of the awarded college or students.
3. Maintenance of the instruments must be done by an approved luthier.
4. Students will form a string quartet, if not already an ensemble and be coached by a college faculty member.
5. The selected student quartet will perform for at least 4 pre-college schools (preferably at schools with developing or no string program) and 4 community events during the year.
6. The quartet will submit their performance schedule and supply photos and testimonies to the VASTA newsletter and website.
7. All performances must credit "VASTA-Corrochano Scholarship" on the program or verbally at the performance.

Scholarship Application
VASTA Instrument Scholarship Application

College Name _________________________________________________
Faculty Contact _________________________________________________
Position _______________________________________________________
Address _______________________________________________________
_______________________________________________________
_______________________________________________________
_______________________________________________________
E-mail _______________________________________________________
Telephone _______________________________________________________
Answer the following questions on a separate sheet of paper:
1. What process will you use to select deserving students?
2. Name possible school and community performance opportunities.
3. How will this program benefi t your students and program?
4. Who will coach the selected string quartet? Briefl y describe background of the coach.
5. How often will the coach meet with the selected quartet? How frequently will the quartet rehearse?
If our college or university is selected for the instrument donation, I agree to observe the require-
ments listed above.
________________________________________ _______________
Faculty Signature Date
SEND application and inquiries to:
Lucy Manning, VASTA President-Elect
5208 A Argall Ave
Norfolk, VA 23508
Telephone: 757-646-0877
E-mail: lmanning@odu.edu

SUBMIT application by OCTOBER 31, 2009.
Itís Prelude Time! By Jennifer Wade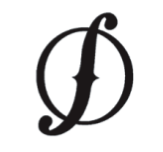 Arlington seems to be a community that never sleeps, and true to form, two Arlington residents have been working overtime to bring a new intermediate string ensemble to the youth of Arlington and surrounding areas. Jennifer Wade, freelance violinist and private studio instructor has joined with Anne Wengrovitz, experienced non-profit executive and parent of a student violinist to found Prelude: The Arlington Youth Orchestral Program.
The program is announcing auditions for its Inaugural Season, with the first audition date scheduled for August 15, 2009.
Throughout Prelude's season, which will run from October through April, young string musicians from fifth through tenth grade will participate in two performances: one featuring chamber ensembles in February, and the other featuring the full ensemble in April.
With a number of highly successful youth orchestra programs in the Northern Virginia region, Prelude is creating its own niche as an Arlington-based ensemble with a balanced focus on both performance and instruction.
Each weekly rehearsal is divided into two segments: one for building ensemble and sight-reading skills, and the other for more traditional rehearsing of concert repertoire. By taking the time to develop highly- sensitive ensemble skills and improve the sight-reading skills of less-experienced musicians, Prelude believes that its participants will reach a new level of pride and enjoyment in their playing. Simultaneously, these young players will be particularly well prepared to participate in any of the region's more advanced ensembles to which they may aspire in the future.
Another unique element of Prelude's program is the audition. Some aspects of the audition will be familiar to those who have auditioned for other ensembles. Candidates will be asked to play a prepared solo and perform sight-reading excerpts. The audition differs from the norm, however, because the audition panel freely interacts with candidates to uncover skills that may be hard to identify through the standard audition format. Judges are looking to asses a young musician's ability to take instruction, assimilate new information, and recall musical direction. The candidate's solo selection provides material to serve the interactive portion of the audition.
Keeping a strong educational benefit in mind, Prelude goes the extra mile by providing prompt feedback from the auditions to all candidates, regardless of acceptance. The goal is to provide young musicians with constructive criticism, objectively outlining a candidate's strengths and areas in which he or she could improve. Notification letters containing the audition results will be mailed within two weeks of a candidate's audition date. Written feedback from the audition is included in the mailing.
In addition to recognizing the importance of educational feed- back and high-caliber instruction, Prelude was founded on the belief that young musicians are motivated by and learn invaluable lessons from highly skilled artists in their field. Several rehearsals through- out the season are designated as Guest Artist Sessions, devoted to bringing the mastery and honed skills required of high-level artistic performance into the manageable, up-close and personal environment of the rehearsal room. Guest artists are selected for their enthusiasm in bringing music to younger generations, their ability to interact with young performers, and their superior performance skills.
Throughout Prelude's first season, sight-reading selections (used as just one element of the skill building portion of rehearsals) are expected to be pulled from VBODA Grade II and III repertoire, depending upon the sight-reading level demonstrated by participants at auditions. Concert repertoire is expected to be at the VBODA Grade III and IV level. To support Prelude's goal of improving sight-reading abilities in young musicians, the ensemble will read at least one new, short piece of music at nearly every rehearsal.
Over the summer, Prelude's founders and Board of Directors have been working hard to spread the word about this new opportunity to both private teachers and orchestra directors.
Anyone who may be interested is encouraged to visit the website at www.PreludeVa.org or attend Prelude's next information session on September 12, at 4 p.m. Held at Walker Chapel UMC in Arlington, the meeting will give further details regarding audition requirements, rehearsal and performance schedules, and how to submit an audition application. There is no audition application fee in this first season, so all students can easily benefit from participating in the audition experience and receive audition feedback!
As final preparations for an exciting inaugural season fall into place, Prelude eagerly anticipates a successful and rewarding experience for its young musicians through its unique combination of engaging music, creative activities, and interaction with enthusiastic professional performers. The stage is set; stay tuned!
Jennifer Wade can be contacted directly through Prelude's website, www.PreludeVA.org, or by sending an e-mail at jwade@PreludeVA.org.